Healthcare Certifications
ACLS Healthcare Certification
An ACLS certification class for healthcare professionals looking to improve their lifesaving skills in a cardiopulmonary emergency.
Certifications Issued FAST

Certifications Accepted Everywhere

Classes NEVER Canceled
What can I expect to learn in this class?
Our goal is for you to feel 100% confident in your ability to act quickly during a cardiopulmonary emergency. This ACLS healthcare certification class will enhance your lifesaving skills and enable you to better diagnose and care for adults experiencing a cardiopulmonary emergency.
You can expect to learn the latest guidelines related to cardiac life support that enhance your career and professional development. These topics include adult BLS, early symptom recognition, EKG interpretation, pharmacology and team rescusitation management.
Is this ACLS class
right for me?
This class is best suited for healthcare professionals and first responders looking to feel more confident and prepared in a cardiopulmonary emergency. If you're looking to renew your ACLS healthcare certification with the help of licensed, experienced instructors, book your class with us today!
Want to know more? View our FAQ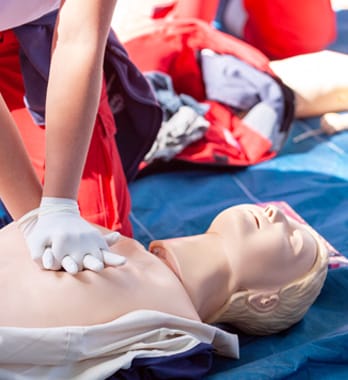 Frequently Asked Questions
How long is the AHA ACLS class?
Generally speaking, you should plan for a half-day of training. Classes usually last 4-6 hours, depending on break times, exams, and the number of students. If you're looking for a flexible way to get or renew your ACLS certification, you can opt for a 2-hour online blended-learning portion of this class. After completing the online portion, you'll demonstrate your skills on-site in front of an instructor. You can view our ACLS blended-learning classes here.
Does ACLS replace or include BLS?
No. ACLS does not cover all the topics taught in a BLS class. BLS teaches CPR for adults, children and infants, as well as choking relief, naloxone administration, and how to use an AED (automated external defibrillator). ACLS focuses solely on advanced adult cardiac life support. Depending on where you take your class, they may offer a BLS add-on so you can get both certifications at the same time.
How do I replace my ACLS card?
You will have initially received an eCard (via email), and you'll be able to log into your AHA portal to retrieve it. You can refer to this article on what to do if you lost your CPR certification card to learn more.
How much does an ACLS class cost?
The price of getting or renewing your ACLS certification depends on many factors, but it typically costs between $150-350. This amount does not usually cover the book or the online course if you choose the blended learning option.
How will I receive my certification card?
You can expect your certification to be emailed to you within one business day of successfully completing the class. You can either save or print the card from there.
Is there an ACLS practice test?
You can find third-party ACLS practice tests online. However, the official ACLS pretest which is required prior to coming to your class serves as a great practice tool and you can retake it as many times as you'd like.
Who are ACLS certification classes best suited for?
Medical professionals in emergency departments, surgery centers, and ICUs often require ACLS certification. These courses provide healthcare professionals with treatment guidelines for cardiopulmonary emergencies, such as heart attacks, strokes, and hypertension.
Where can I find the ACLS pretest?
The ACLS pretest is available online. You will either find a link (with passcode) in your ACLS student manual, or your instructor will provide this information prior to class. The pretest is required by the AHA before you can take the ACLS class.
Additonal Classes Offered
PALS Certification
A high-energy certification renewal class that teaches lifesaving care for infants and children.
CPR/BLS for Healthcare Providers
Professional-level CPR and medical training for healthcare providers taught by AHA authorized trainers.
First Aid Certification
Learn how to teach core components of First Aid, including choking relief, airway management, and more.