Instructor Advantage
Heartsaver® First Aid CPR/AED
This AHA-authorized, blended learning instructor class offers the knowledge and resources you need to complete your training and provide proper First Aid + CPR/AED instruction.
AHA Authorized Training

Personalized, Hands-On Class

Taught by Industry Experts
What can I expect from this class?
Whether you're planning to go into business for yourself or teach for an organization, you'll learn how to administer vital first aid treatment in a medical emergency. During our skills sessions, you'll receive hands-on instruction and experience real-world scenarios to ensure you feel confident in your ability to instruct others on using an AED and administering CPR. This class offers a mix of in-person and online learning to help accommodate your busy schedule.
What are the instructor advantages?
If being your own boss and championing good health appeals to you, this class is for you! Becoming an AHA-authorized Heartsaver® CPR instructor offers many advantages, including flexible work environments, financial growth, and a rewarding career in an established, essential industry.
Want to know more? View our FAQ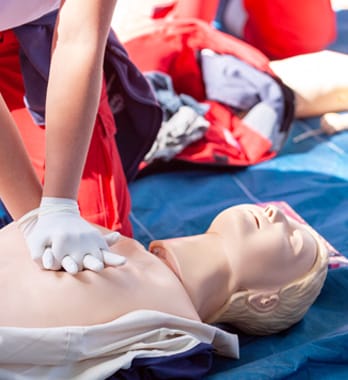 Frequently Asked Questions
How do I replace my CPR and/or First Aid card?
Typically, if you initially received an eCard (via email), you'll be able to log into your AHA portal to retrieve it. You can refer to this article on what to do if you lost your CPR certification card to learn more.
How long is a CPR certification valid for?
Students are issued a two-year CPR certification upon successful completion of class. Certifications expire two years later at the end of the month issued.
How will I receive my certification card?
You can expect your certification to be emailed to you within one business day of successfully completing the class. You can either save or print the card from there.
Where can I learn more about AHA CPR guidelines?
The best resource is the AHA website itself. CPR guidelines are updated every five years and they offer a hard copy book available for purchase.
Additonal Classes Offered
ACLS for Instructors
Learn how to teach cardiopulmonary arrest and other cardiovascular emergencies response techniques.
BLS for Instructors
Get certified and feel confident in your ability to give lifesaving instruction with this streamlined Basic Life Support class.
PALS for Instructors
Help improve outcomes in pediatric cardiopulmonary emergencies with this advanced certification and streamlined instruction.