Healthcare Certifications
CPR/BLS for Providers
The Basic Life Support (BLS) class offers professional-level CPR for healthcare providers and those involved in a medical school or healthcare organization.
Certifications Issued FAST

Certifications Accepted Everywhere

Classes NEVER Canceled
What can I expect to learn in this class?
Our goal is for you to feel 100% confident in your ability to act quickly during a cardiac or respiratory emergency. This BLS certification class will teach you how to perform CPR/BLS on adults, children, and infants. You can also expect to learn helpful skills and information for other emergency situations, including how to provide choking relief and how to effectively use an AED.
By providing hands-on instruction in an engaging environment, we'll ensure you receive the certification cards and safety knowledge needed to champion good health in your community.
Is this the right CPR class for me?
This class is best suited for healthcare providers at all levels, as well as those starting a new healthcare program. From nurses and physicians to physical therapists and medical specialists, our BLS class is designed for individuals with a medical license or in school for a healthcare profession.
If you're a healthcare provider looking to get your AHA BLS certification, our instructors are here to help with thorough instruction and friendly, personalized feedback during class.
Want to know more? View our FAQ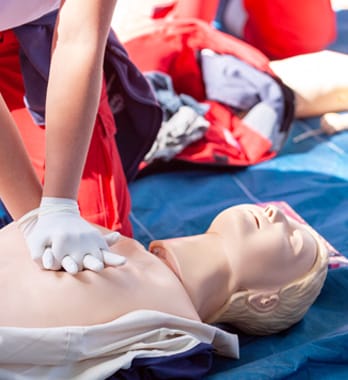 Frequently Asked Questions
Is there an AHA BLS practice test?
No, the American Heart Association (AHA) does not provide an official BLS practice test. However, there are online resources from third party providers that offer practice test questions. The official BLS written exam that you'll take is 25 questions, and you need an 84% or higher to pass.
How long is the AHA BLS class?
Classes usually last 2-4 hours (not including breaks). This timeframe covers a six-student session with two manikins and one instructor. Classes with additional students or large on-site group training may take longer.
Do you offer renewal CPR classes?
All of our CPR classes are the same format, regardless if it's your first or tenth time taking it. Vitali offers a wide range of CPR classes to people of all skill levels and will tailor the course appropriately to the audience.
Do you offer a free BLS certification class?
Not at this time. However, we do offer basic CPR training at no-cost during select events and workshops throughout the year. This training is geared toward building community awareness around lifesaving skills and would not be accepted by employers.
Do you offer online BLS certification?
If you're looking to do your BLS renewal online, the official class title is called "HeartCode BLS." You can purchase the online course from us here or an AHA distributor. Afterwards, you must complete the skills portion at a nearby AHA-authorized Training Center to receive a certification.
Can I get free CPR training at a hospital or fire department?
Yes and no. American Heart Association (AHA), American Red Cross (ARC), and Health & Safety Institute (HSI) certification cards all cost money. So, while some hospitals and fire departments may offer free classes, you may still have to pay for the card ($20-40).
Additionally, not all hospitals and fire departments offer these classes to the community (non-employees) anymore due to budget cuts and/or low demand, and those that do generally have limited availability.
Does BLS include First Aid?
No. Those who take a BLS class typically already have a medical background that includes First Aid knowledge. If you need a First Aid certification, you'll need to take that class as well. You can sign up for one here!
Do I need to take BLS if I already have ACLS?
Yes. These are two separate classes. Sometimes the classes may be offered consecutively, but they each require individual education, including a physical and written test. Taking an ACLS (Advanced Cardiac Life Support) class does not automatically give you BLS certification.
How do I replace my BLS card?
Typically, if you initially received an eCard (via email), you'll be able to log into your AHA portal to retrieve it. You can refer to this article on what to do if you lost your CPR certification card to learn more.
How long is a CPR certification valid for?
Students are issued a two-year CPR certification upon successful completion of class. Certifications expire two years later at the end of the month issued.
How much does BLS certification cost?
How often do I have to renew my BLS certification?
It's currently recommended that a BLS certification be renewed every two years. However, some employers require more up-to-date training, which can be as often as every three months.
How will I receive my certification card?
You can expect your certification to be emailed to you within one business day of successfully completing the class. You can either save or print the card from there.
Is your online BLS certification class AHA-authorized?
What is an AED?
An AED stands for automated external defibrillator. This device is used to detect and shock an abnormal rhythm called Ventricular Fibrillation (or V-Fib) in the heart during cardiac arrest.
What is BLS?
Basic Life Support (BLS) is the CPR class level required for healthcare providers, first-responders, public safety professionals, students in medical programs, and other non-medical personnel working in a healthcare setting.
If you have a state medical license of any kind, you'll need a BLS certification, regardless of whether or not your job requires it. If you do not have a medical license, but work for a non-healthcare company or organization that requires a CPR certification, check out our CPR/AED class.
What's covered in this BLS class?
BLS healthcare training teaches the core fundamentals for healthcare professionals, including how to administer CPR and proper use of an AED (automated external defibrillator).
Our instructors will go over everything you need to know to successfully get or renew your certification. You'll watch short videos and get hands-on practice with life-saving techniques before taking a written exam to put your skills to the test. It's highly informative, efficient, and a lot of fun for most students!
Where can I buy an AHA BLS student manual?
When you sign up for our AHA BLS healthcare certification class, you'll be given the option to purchase the BLS for Healthcare Providers book and pick it up during class, or you can purchase separately on our site and have it shipped to you.
If you decide to take our online blended-learning BLS class, the online portion will include access to the ebook student manual.
Where can I get a Basic Life Support (BLS) study guide?
There are several study guides available online. A simple Google search for "AHA BLS study guide" gives several resources. However, most students find it unnecessary to study beforehand.
Where can I learn more about AHA CPR guidelines?
The best resource is the AHA website itself. CPR guidelines are updated every five years and they offer a hard copy book available for purchase.
What's the difference between BLS and CPR?
BLS is the highest level of CPR certification you can get and is necessary for healthcare providers. Classes referred to as simply "CPR" are generally for non-healthcare professionals who still require certification.
Additonal Classes Offered
ACLS Certification
Certification renewal for healthcare professionals looking to improve their skills in a cardiopulmonary emergency.
PALS Certification
A high-energy certification renewal class that teaches lifesaving care for infants and children.
CPR/AED Certification
Learn all the basics for effectively administering CPR and using an automated external defibrillator (AED).