Workplace Safety
Oxygen Administration
This OSHA-compliant Oxygen Administration class is designed for individuals and groups looking to meet job requirements and enhance workplace safety.
Certifications Issued FAST

Certifications Accepted Everywhere

Classes NEVER Canceled
Is this oxygen admin class right for me?
This class is best suited for those required to undergo oxygen safety training for their workplace, including but not limited to first responders, lifeguards, manufacturing staff, industrial staff, and medical volunteers. This class covers a combination of theoretical knowledge and practical skills using a hands-on teaching approach and high-quality training equipment. It's great for any skill level!
What can I expect to learn in this class?
This class is meant to equip you with the skills and knowledge needed to provide basic medical assistance to people experiencing shock in an emergency. Shock causes oxygen depletion in the body, which is why our O2 safety training teaches how to administer oxygen to breathing and non-breathing people in emergency situations. You can also expect to learn how to use a pulse oximetry device to measure oxygen levels and how to utilize oxygen delivery systems.
Want to know more? View our FAQ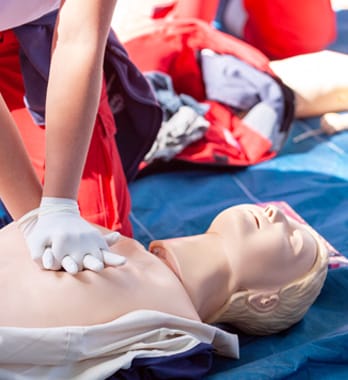 Frequently Asked Questions
How long is this class?
Approximately 1-2 hours depending on class size.
How long is this certification valid?
The Oxygen Administration Certification meets OSHA and job regulatory requirements and is valid for two years.
How will I receive my certification card?
You can expect your certification to be emailed to you within one business day of successfully completing the class. You can either save or print the card from there.
Who can legally administer oxygen?
O2 administration may be legally performed by anyone who holds a current Oxygen Administration certification. Some examples include medical volunteers, lifeguards, first responders, industrial and manufacturing staff.
Additonal Classes Offered
CPR/AED Certification
Learn all the basics for effectively administering CPR and using an automated external defibrillator (AED).
Bloodborne Pathogens
Learn how BBPs spread, how to avoid and handle exposure, and more in this OSHA-compliant class.
First Aid Certification
Learn how to teach core components of First Aid, including choking relief, airway management, and more.