Workplace Safety
Bloodborne Pathogens
This OSHA-compliant Bloodborne Pathogens (BBP) class is designed to help healthcare and non-healthcare workers meet job requirements and enhance workplace safety.
Certifications Issued FAST

Certifications Accepted Everywhere

Classes NEVER Canceled
Is this BBP class
right for me?
This class is best suited for employees and businesses exposed to blood or other bodily fluids, such as healthcare workers, emergency responders, daycare staff, cleaning staff, tattoo artists, and more. Those looking to improve workplace safety with awareness training may also opt to take this class.
What can I expect to learn in this class?
This class covers the basics of Bloodborne Pathogens, including what they are, how they spread, and how to properly handle incidents of exposure. Material covered in this class complies with OSHA safety standards and teaches awareness around BBPs like Human Immunodeficiency Virus (HIV), Hepatitis B, Hepatitis C, and Malaria.
Want to know more? View our FAQ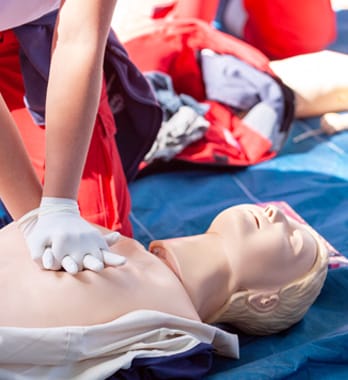 Frequently Asked Questions
How long is this class?
Students will spend anywhere between approximately 1-2 hours reviewing the class materials.
How long is this certification valid?
This training is valid for one year per OSHA standards.
How will I receive my certification card?
You can expect your certification to be emailed to you within one business day of successfully completing the class. You can either save or print the card from there.
Is there an online version of this class?
This class can be completed online at your convenience. Upon registering, you will gain access to a 24/7 portal. You can train in English or Spanish and expect to receive your certification via email after successfully completing the online course.
How often do I need BBP safety training?
For OSHA Bloodborne Pathogen compliance, businesses and organizations should offer annual training for any employees regularly exposed to blood and/or other infectious materials. This involves implementing OSHA's required safety controls and training a compliance officer to oversee company strategies.
What is a Bloodborne Pathogen?
According to the Occupational Safety and Health Administration (OSHA), "Bloodborne pathogens are infectious microorganisms in human blood that can cause disease in humans. These pathogens include, but are not limited to, hepatitis B (HBV), hepatitis C (HCV) and human immunodeficiency virus (HIV)."
Additonal Classes Offered
CPR/AED Certification
Learn all the basics for effectively administering CPR and using an automated external defibrillator (AED).
Oxygen Administration
Learn how to administer emergency oxygen and utilize oxygen delivery systems in this OSHA-compliant class.
First Aid Certification
Learn how to teach core components of First Aid, including choking relief, airway management, and more.