Workplace Safety
First Aid + CPR/AED
This dual certification class is perfect for those looking to meet job requirements and enhance workplace safety with engaging, OSHA-complaint training.
Certifications Issued FAST

Certifications Accepted Everywhere

Classes NEVER Canceled
Is this two-in-one
class right for me?
The First Aid CPR/AED authorized class is best suited for non-healthcare individuals who are required to obtain CPR and/or First Aid certification, either by The Occupational Safety and Health Administration (OSHA), state bodies, or their employer. Individuals looking to improve workplace safety within their business or organization may also opt to take this class.
What can I expect to learn in this class?
In this class, you'll learn how to assess a situation and check vital signs in a medical emergency. This class covers all the vitals in teaching effective CPR and First Aid topics, including critical components of emergency care, such as how to administer CPR, how to properly use an automated external defibrillator (AED), choking relief, stroke, heart attacks, broken bones, bleeding, etc.
Want to know more? View our FAQ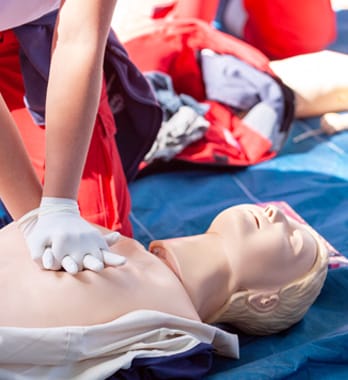 Frequently Asked Questions
Are CPR and First Aid the same?
Technically, CPR is a component of First Aid care. However, in terms of classes, they are generally separate due to how much information and practice is involved in effective CPR alone.
In terms of material, First Aid classes typically cover a wide range of ways you can assist a person who's become ill or injured, while CPR classes focus on helping a person undergoing cardiac arrest specifically.
Can I get a First Aid certification only?
Yes. First Aid classes can be taken separate from CPR. However, Vitali does not offer standalone First Aid classes to the public. You would need to sign up for a full CPR and First Aid class. Visit our registration page for available First Aid classes.
How do I get a First Aid certification card?
After successfully completing a First Aid class, you'll receive an eCard (via email). An instructor technically has up to 20 days to send your certification, but Vitali guarantees you'll receive it within one business day.
Can I get my CPR and First Aid certification online?
Yes and no. Any class that's completely online is typically not accepted by employers as OSHA and state requirements mandate hands-on training. However, training can be more flexible if you opt to take an online blended-learning class (part online, part onsite). After completing the online portion, you would need to demonstrate your skills in front of an instructor to get your CPR and First Aid certification. View our blended-learning class options here.
Can I get free CPR training at a hospital or fire department?
Yes and no. American Heart Association (AHA), American Red Cross (ARC), and Health & Safety Institute (HSI) certification cards all cost money. So, while some hospitals and fire departments may offer free classes, you may still have to pay for the card ($20-40).
Additionally, not all hospitals and fire departments offer these classes to the community (non-employees) anymore due to budget cuts and/or low demand, and those that do generally have limited availability.
Do you offer renewal CPR classes?
All of our CPR classes are the same format, regardless if it's your first or tenth time taking it. Vitali offers a wide range of CPR classes to people of all skill levels and will tailor the course appropriately to the audience.
How do I replace my CPR and/or First Aid card?
Typically, if you initially received an eCard (via email), you'll be able to log into your AHA portal to retrieve it. You can refer to this article on what to do if you lost your CPR certification card to learn more.
How long is a CPR certification valid for?
Students are issued a two-year CPR certification upon successful completion of class. Certifications expire two years later at the end of the month issued.
How often do I have to renew my CPR and/or First Aid certification?
You should plan to renew your certification every two years. Certification is good through the end of the month the card was initially issued. However, some employers require more up-to-date training, so you have the option to renew prior to the end of this period.
Is there a First Aid certification test?
No. Students are no longer required to take a test in order to obtain a First Aid certification card. This is a change that happened when the 2010 CPR guidelines were released.
How will I receive my certification card?
You can expect your certification to be emailed to you within one business day of successfully completing the class. You can either save or print the card from there.
What is First Aid training?
First Aid is the care given to someone who has suffered sudden illness or injury. The goal of First Aid is to help improve medical outcomes, either by addressing the injury with proper training or getting the person to a higher level of care. If someone is First Aid-certified, it means they have been trained to provide basic care in emergency situations within the past two years.
What is an AED?
An AED stands for automated external defibrillator. This device is used to detect and shock an abnormal rhythm called Ventricular Fibrillation (or V-Fib) in the heart during cardiac arrest.
Where can I learn more about AHA CPR guidelines?
The best resource is the AHA website itself. CPR guidelines are updated every five years and they offer a hard copy book available for purchase.
What's the difference between AHA and Red Cross classes?
Vitali offers both American Heart Association (AHA) and American Red Cross (ARC) authorized CPR classes. They both teach the same national standards. However, some employers especially in the healthcare field will require one brand over the other. Check with your employer to verify what they require so that you choose the appropriate class.
Additonal Classes Offered
CPR/AED Certification
Learn all the basics for effectively administering CPR and using an automated external defibrillator (AED).
First Aid Certification
Learn how to teach core components of First Aid, including choking relief, airway management, and more.
Bloodborne Pathogens
Learn how BBPs spread, how to avoid and handle exposure, and more in this OSHA-compliant class.